© 2012 ballyroonmountain.com

We are remotely situated 3km from the end of the long, narrow Sheep's Head Peninsula, West Cork,(the Ordnance Survey Ireland, Discovery Series Map 88 covers the area, our farm is at map ref: V74778E 35269N; GPS ref 9°48.22.55W´ 51°33.24.09N).
Its Irish name is Muintir Bhaire, "The People of Bhaire"; bhaire translates as goal, appropriate as the peninsula is sandwiched between the "goalposts" of the Mizen to the South and the Beara to the North.
The local version is "The People Closer to God" - when you have experienced the brilliant sunsets you will understand why!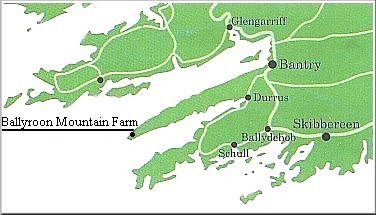 At 1.5km wide, here the peninsula has an island feel; the farm is 250 mtrs from the shoreline, 30-50mtrs above sea level at the foot of Ballyroon Mountain. Our "townland" Ballyroon Mountain's a division of Kilcrohane parish.
We overlook the deep waters of Bantry Bay - across it to Bear Island and the rugged Beara Peninsula where Hungry Hill dominates the view to the Northeast, with the mountains of the Iveragh Penninsula in Co Kerry visible in the far distance.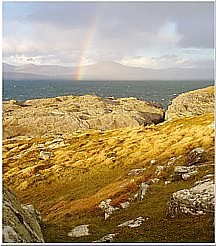 To the West is the Atlantic with the dramatic Cow, Bull and Calf Rocks on the horizon, to the Northwest the view includes Black Ball Head and Dursey Island. From higher ground the view South opens up, revealing calmer Dunmanus Bay with the backdrop of Three Castles Head on the Mizen, and beyond that the Fastnet Rock in the Celtic Sea to the South West.
Ballyroon Mountain is the rock outcrop on the horizon as you head out West along the peninsula; a wild heathland landscape with rocks crumpled like petrified waves; where hidden lakes, valleys and streams appear.


Ballyroon means "Secret Place".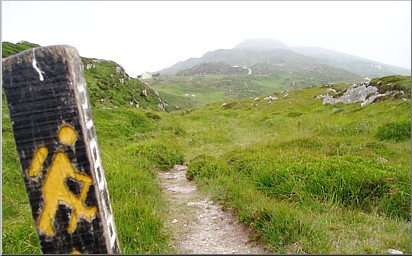 The tiny settlement of Tooreen ("little green sheepwalk"), the last inhabited place on Sheep's Head, is reached by following the road to its end, 1.5km from here. Then walk to the lighthouse, the edge of Europe!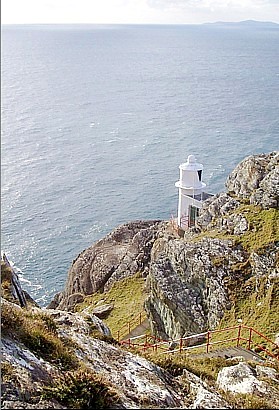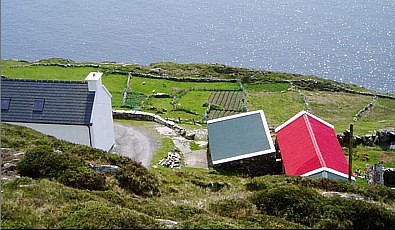 Getting Here By Air
We are 2hrs drive by hire car from Cork Airport; by coach from Cork to Bantry 2hrs, (transfer coach available from airport to Cork bus station). Collection from Bantry available.
Sue & Roger Goss
Ballyroon Mountain, Kilcrohane,
Bantry, Co Cork
Ireland












Ballyroon Mountain - Location