© 2012 ballyroonmountain.com
Most rural parishes in West Cork, including Kilcrohane, Ahakista, and Durrus, have summer festivals. Kilcrohane has its carnival in July, great fun; Ahakista's is based around their regatta, with rowing and raft races.
Check out the community council newsletter for local happenings!
Bantry Show is on the airstrip beside the sea in September, the free ferry from Bantry pier a grand way to travel!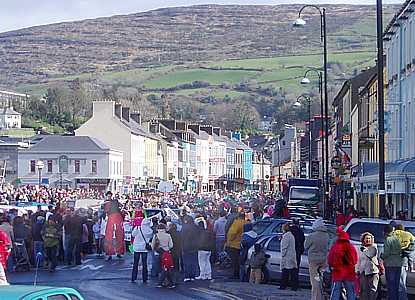 Bantry also has its St Patrick's Day Parade and, in November, a colourful Cheval Ride with horses and riders in fancy dress.
You may come across Road Bowling, the clue's in the name! Road Trotting and Trotting Races are also popular in West Cork.
The 'pattern' at the O'Neill monument near Bantry is a day of open air traditional music and set-dancing in September.
mail@ballyroonmountain.com

Ballyroon Mountain - Events