© 2012 ballyroonmountain.com

Two gardens on the peninsula are included in the West Cork Garden Trail
Carraig Abhainn Gardens, behind Mr and Mrs Wiseman's shop, open every day March-October, except Sundays and Kilravock, both at Durrus.Cois Cuain at Kilcrohane, and Kilvravock are famous for their salt-resistant and southern hemisphere plants.
Visit the Air India Memorial Garden at Ahakista, with its poignant stone memorial and beautiful setting.

---
mail@ballyroonmountain.com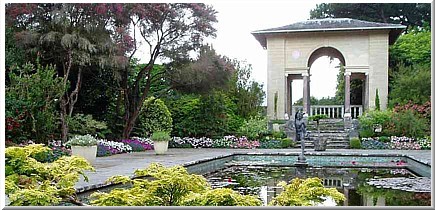 Ilnacullen is an exotic Italianate garden on an island near Glengarriff, with wonderful vistas over the water to the nearby mountains. Boats to the island run from Glengarriff, with good views of seals on the way!
Bantry House has period gardens and the 'stairway to the sky' with good views over Bantry Bay.













Ballyroon Mountain - Gardens